Apple Macbook Keyboard Repair

Macbook Keyboard Repair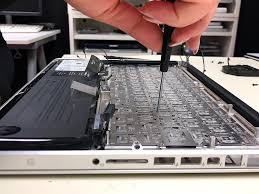 You hit A and G pops out, or maybe it doesn't register you pressed a key at all. Perhaps your power button doesn't work, which is a part of the keyboard.
This is a common problem as the keyboard is the first part of the laptop to succumb to liquid damage during a spill, and one of the most used parts of the machine. Most keyboard issues are caused from high humidity or liquid damage, and we can fix them all.
We Can Replace Your Keyboard And Fix Your Problem
We stock most keyboards and can often replace them with same day service, without a parts order. We even do the Retina Macbook Pro keyboard replacements; many repair shops do not offer this repair without replacing the entire top case.
Apple designed some of their laptops in a way where the keyboard is not replaceable, and replacing the top case is very expensive. We can replace the keyboard without replacing the entire top case, and save you a lot of money.