Company's thinnest Chromebook convertible delivers high-end design and versatile performance 
Palo Alto, Calif., Oct. 8, 2018 — HP Inc. today announced the HP Chromebook x360 14, HP's thinnest Chromebook convertible device.
As Chromebooks grow in popularity and are increasingly used as a primary device, consumers expect a similar or even better experience versus a traditional laptop. Based on internal HP research1, 47 percent of those surveyed believed Chrome OS is easy to use, while 60 percent of respondents feel hybrid form factors are more innovative, fun, and relevant than the traditional clamshell design. Understanding these insights, HP set out to create an experience that exceeds the demands and expectations of what a Chromebook should be.
"As customers continue to embrace the Chromebook ecosystem, we have learned that they are often seeking the same design and features that make our other convertible devices so popular," said Kevin Frost, vice president and general manager, Consumer PCs, HP Inc. "With the success of the HP Chromebook x2 earlier this year, customers have signalled they want premium choices and powerful experiences in their Chrome OS devices. We are excited to expand our Chromebook portfolio with the HP Chromebook x360 14 – an unparalleled Chrome OS experience with a head-turning design that delivers the power and performance our customers expect."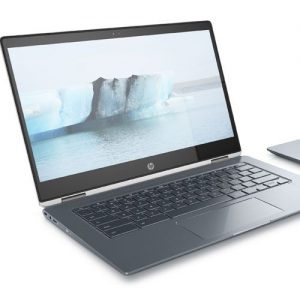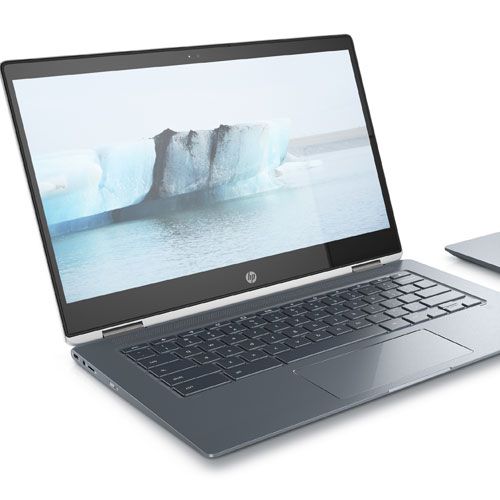 Meticulously Designed to Delight
The Chromebook x360 offers a gorgeous, premium design and elegance with 3D stamped metal keyboard deck and a diamond-cut trim on the touchpad. An Advanced Electrodeposition (AED) application gives the device's cover a protective and decorative coating, creating a ceramic-like white finish. In addition to the beautiful matte design, this maintains the metal characteristic of the Chromebook x360 and provides additional strength, durability and scratch resistance. Additionally, the anodized aluminum keyboard deck in cloud blue with color matched keycaps offers subtle premium touches designed to turn heads.
With its four unique positions, the Chromebook x360 offers versatility in how a Chrome OS device can be used, making it ideal for productivity and entertainment. With a Chromebook convertible, consumers get all the great benefits of Chrome OS: an easy-to-use, stable, speedy and secure computing experience.
For demanding tasks, the Chromebook x360 features up to 8th Gen Intel® Core™ i3 and i5 processors2 for enhanced performance. The device comes with up to 64 GB of SSD storage for fast processing and boot time, and up to 8 GB of DDR4 to multitask with ease. Customers also expect long battery life beyond the traditional eight-hour day. The Chromebook x360 has up to 14 hours of battery life3 to handle whatever life throws at you – whether working, playing or binge watching your favorite Netflix series.
Entertainment is an important experience for consumers on their convertible devices, so creating a device that is visually and audibly amazing was a priority in the development of the Chromebook x360. HP worked closely with the company's audio partner Bang & Olufsen to deliver custom tuning of the dual speakers for a rich, authentic listening experience. For an optimal viewing experience, the device features a 14-inch diagonal FHD touch display4 with an ultra-thin narrow bezel (7.5 mm). And the Chromebook x360 also comes with a broad array of ports for connectivity, including 2 USB Type C™, 1 USB Type A 3.1, a Micro SD port, and Audio jacks (in/out).
The Chromebook x360 is designed make the most of the seamless integration of the Google and Chrome OS ecosystem. After logging into a Google account on the device for the first time, data and content are readily available, allowing people to take photos on their Android phone and then edit, upload, and share them via the Chromebook x360 and the user's Google drive. Take advantage of the two years of complimentary 100 GB of Google Cloud storage5 to store photos and documents, and easily access Google Play – filled with Android apps that can help you do everything from work to play.
Pricing and Availability
·         The HP Chromebook x360 14 is available for pre-order beginning today at HP.com for a starting price of $599.6
·         The HP Chromebook x360 14 is also available for pre-order beginning today at BestBuy.com and is expected to be available in stores on October 21. See            Best Buy for pricing details.
About HP
HP Inc. creates technology that makes life better for everyone, everywhere. Through our portfolio of printers, PCs, mobile devices, solutions, and services, we engineer experiences that amaze. More information about HP Inc. is available at https://www.hp.com.